The following is the English translation of the requisition of recognition submitted to the United Nations' General Assembly in 1946.
28th day of January 1946
Requisition
The People of Azerbaijan ( South) is one of the ancient nations with an affluent and protracted national history. It has been able to preserve its national language, its culture and custom throughout troubled centuries.
The despotic regimes of Iran took control of Azerbaijan and mercilessly ransacked its wealth and resources. As a result, the once prospering town and cities of Azerbaijan have been devastated.
Through expansionist- imperialistic state policies, the chauvinistic- racist rulers of Iran rebutted the existence of Azerbaijanis. They imposed the most abusive deeds and arrangements to eradicate the Azerbaijani language.
Nonetheless, the Azerbaijanis have never halted their struggle for freedom. The movements of Settarkhan, Bagirkhan, and Shaikh Mohammed Khiyabani are some of the bright instances of our nation's struggle for liberty and self-governance. These aforesaid courageous idols were the leaders and ( later) the martyrs of the struggles.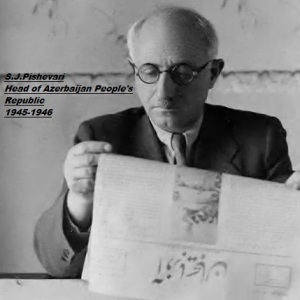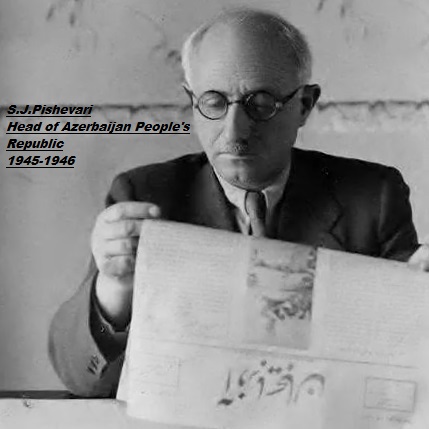 The victory of democratic states on bloody fascism has created new circumstances and stimulated the recent struggle of the people of Azerbaijan.
Despite the opposition of the Tehran regime, the centuries-old struggle of the people of Azerbaijan has succeeded on 12 December of 1945, followed by formation of the National Assembly and the National Government of Azerbaijan. Azerbaijan has proclaimed the formation of its democratic National Government to the world.
The 5 million Azerbaijanis reinforced by their history and civilization have demonstrated to be a modern nation which will no longer whimper under Persian despotism. They will no longer  tolerate the dominance of the Farsi language over the languages of other peoples and nations in Iran.
Our people are unified and are willing to sacrifice their lives to preserve their national liberty and government.
The newly established National Government of Azerbaijan has made inordinate modifications in social, economic and cultural areas, and it has achieved a full internal security and stability.
After the formation of the National Government, the long oppressed and exploited people of Azerbaijan have just commenced to live in civilized circumstances as human beings. Thus, our nation has demonstrated that the Azerbaijanis are fully capable of self-governance.
It is an irrefutable fact that the National Government of Azerbaijan exists, and it is established upon the willpower of our nation, pursuant to the Atlantic Charter, and on the basis of pledges made by the democratic states.
By appealing to the General Assembly of United Nations the People of Azerbaijan is demanding that the National Government of Azerbaijan is recognized and our nation  is provided with guarantees that its right to self-determination is respected without any foreign coercion and intervention.
Seyid Jafar Pishevari
The Prime Minister of
the National Government of Azerbaijan
28th Day of January 1946