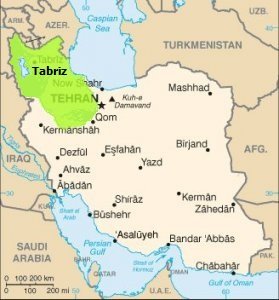 Southern Azerbaijan is the Southern part of historically united Azerbaijan annexed to Iran after 1925 following the collapse of the Turk- Gajar Empire.
South Azerbaijan is currently a region in northwest Iran which lies south of Armenia and the Republic of Azerbaijan and est of Turkey.
South Azerbaijan encompasses the province of East Azerbaijan, West Azerbaijan, Ardebil Province, Zenjan Province, Ghazvin and parts of Hamadan Provinces.
The most significant cites of South Azerbaijan are Tabriz,  Ardabil, Urmia, Zenjan, Khoy, Salmas, Sovuqbulaq (Mahabad)  Sulduz (Naghadeh), Qoshachay(Miyandab), Ahar, Mughan,  Sarab, Sayinqala(Shahindej),  Astara, Saveh, Ghazvin, etc.
Tabriz is the largest city and  the capital of Southern Azerbaijan.
This region has great geographical and environmental diversity made up of mountains, valleys, forests, lakes and marshlands.
Southern Azerbaijan is mostly populated by Shi'a Muslims; however, there are other religions minorities such as non-believers, Sunni Turks and Ahl Haq followers in South Azerbaijan. Regardless of  different religious views,  the Southern Azerbaijanis  speak Azerbaijani Turkic, a dialect of  Oghuz Turkic language that is similar to Turkish and Turkmen.
It is extremely difficult to give an accurate estimate of the population, since it has been reported that the Iranian authorities tamper with the official statistics. The members of the population  of Azerbaijani descent in Iran is estimated to be around 30 million . There are additionally large communities of Azerbaijani Turks living abroad, not only in Azerbaijan, but in countries such as Turkey, Russia, Georgia, U.S.A, Kazakhstan, Germany, Ukraine and Canada.
Many immigrants from the Southern Azerbaijani territory have moved to other parts of Iran such as Tehran. At present, nearly 8 million Southern Azerbaijanis live outside Southern Azerbaijan, where more than a million of them are political immigrants, living in Europe and America. A million of them live in southern Iran while approximately 6 million live in the city of Tehran.