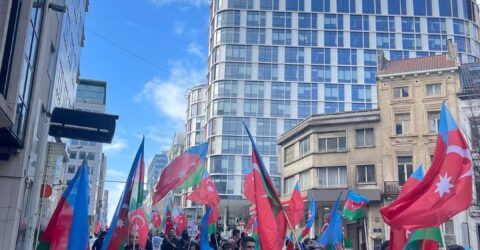 Today, on 25th of March 2023 thousands of Southern Azerbaijanis gathered in Brussels, Belgium to express solidarity with the people of South Azerbaijan struggling to regain their right of self determination.
The mass gathering at the headquarters of the European Parliament intends to send a loud and clear message to certain foreign powers including Europe which have been attempting to forge  alternatives such as the son of the former shah Pahlavi and  Maryam Rajavi, the leader of Mojahedin for post-mullah-Iran.
Neither Pahlavi nor Rajavi has made any attempt to recognize and extend basic human -ethnic right to any of ethnic minorities in Iran.
The main slogans chanted by S. Azerbaijani Turks today were " Rajavi, Shah and Mollah are all  Azerbaijan's enemies!" and " Freedom, Justice and Self-governance" which were also the main slogans of South Azerbaijanis during the most recent unrests. 
South Azerbaijanis despise both  the former  Shah of Iran and  the current Islamic regime as the plotters and executioners of ethnic cleansings in both forms of genocide and cultocide against Turks since 1946 and 1980.. 
Their opposition to the leader of Mojahedin, Rajavi is due to the fact that this religious group does not recognize basic linguistic rights, and it overtly opposes the right of self determination of the ethnic minorities; therefore, South Azerbaijanis and other ethnic groups are of the opinion that Mojahedin as all other unitarian alternatives are as racist and authoritarian as the mullahs. 
It is noted that some members from Khorasani and Gashqai Turks and Arabs of Alhahwaz were among the protestors.