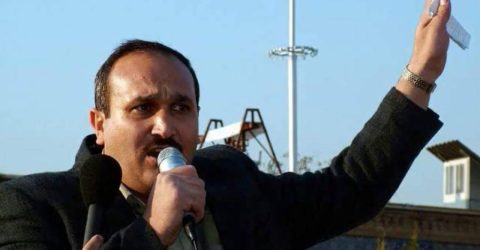 According to the family of Azerbaijani national activist Abbas Lisani, he has been arrested since over 20 days ago and held incomunicado in an unidentified location.
In their recent interview with BBC Azerbaijan, Lisani's family stated that he was arrested by three plain clothed intelligence agents in the Court building of Tabriz.
"We went looking for him in Tabriz, S. Azerbaijan they told us he has been transported to Ardabil. Then we went to the prosecutor's office in Ardabil but we were not given any information", said the members of his family.
The South Azerbaijani patriotic activist, Abbas Lisani had been arrested months earlier and taken into Revolutionary court after his speech at the funeral of famous Azerbaijani activist, Hasan Demirchi in Tabriz.
The Revolutionary Tribunal of Ardebil convicted Abbas Lisani to 10 months of prison at his absence. He was later arrested on the street , then released.
According to his family, 20 days earlier Abbas Lisani went to the Court of Appeal of Tabriz to appeal the decision, where he was arrested and has not been heard of ever since.
"We don't even know on what charges he was arrested", his family said to BBC Azerbaijani.
Other trusted sources reported that Mr. Lisani has gone on hunger strike demanding his unconditional release.