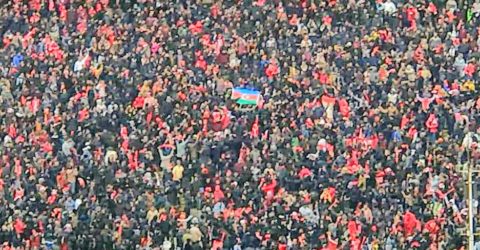 Up to hundred thousand South Azerbaijani Turks stood up to protest the Armenian P.M Nikol Pashinian's visit to Tehran on the day of Khojaly Massacre.
Khojali (XOCALI) massacre was jointly committed by Armenian Army, Armenian terrorist groups such as ASALA and Dashnaktsutyun and 365th Regiment of Russian Army on 26th February 1992. The entire inhabitants including children and elders of the town of Khojali were massacred.
P.M Pashinian of Armenia was welcomed by the President Ruhani and also Ayatullah Khamnei, the supreme leader of Iran who claims to be "the supporter of world Muslims." Pashinian also attended a meeting with Iranian Armenians in the "Ararat" Sports Club and took a selfie with a banner indicating as follows: " Artsakh (Karabagh) Belongs To Armenia. Period!"
The selfie caused enormous anger in both North and South Azerbaijan. About hundred thousand South Azerbaijani spectators of the Azerbaijani Tractor Soccer Team turned the match between "Tractor" and "Sepehan" Team to a political protest which included raising the national flag of Azerbaijan, chanting " Karabakh is Ours, Will Remain As Such". They also burned the flags of Armenia in anger and demand the regime of Tehran to end its support towards Armenian invaders. https://www.youtube.com/watch?v=WOcWDYLr5B0&time_continue=12&fbclid=IwAR3r_fncvhk5eV_4xI4qp_cHf6j7E8Yqjl47uCyRvUvGomNwZS6EDQ7RplE&app=desktop
The issue has also made its way into Iran's Parliament. Azerbaijani parliamentarians such as M.P, Nader Qazipur of Urmia, M.P, Pezeshkian of Tabriz called the Armenian P.M visit a slap on the face of 40 million Azerbaijani Turks of Iran and demanded the Iran's Foreign Minister to explain "the shameful and unacceptable act " and clearly declare that Karabakh belongs to Azerbaijan.
Despite their claim of "Islamic brotherhood", simply due to ethnicity of Azerbaijani Turks, Iran has always aided the Armenians. It supplied Armenian Army and the terrorist groups with weaponry and millitary intelligence during the war of 1989-1993. The invasion of Karabakh by Armenian forces and 366th Regiment of Russian Army resulted in killing of over 35 thousand Azerbaijanis and displacement of 1 million Azerbaijani Turks from their historical motherlands.