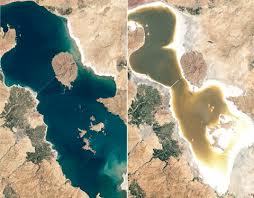 The area of ​​Urmu lake has decreased by 88 k2 since last year.
Farhad Sarkhosh, the representative of the Lake Urmu Rehabilitation Center stated that currently the area of ​​the Lake Urmia is 3566 K2. However the lake's area was 3743 K2 last year which indicated 88 square kilometers of shrinkage within a year.
According to Mr. Sarkhosh, the current water level of Urmu lake is 1271.31 cubic meters. However, this was 1271.89 last year which is indicative of the fact that there is a 58 cubic meters of decrease. The current volume of the water of Urmu lake is 4 billion 88 million cubic meters. The water volume of the lake has decreased by 1 billion 99 million cubic meters, Mr. Sarkhosh reported. Despite local protests and international pressures the regime of Iran has done almost noting to save the lake.
Many South Azerbaijanis believe that the occupying regime of Tehran has deliberately dried up the lake in order to force migration of Turkic Azerbaijanis residing in the area. Hundreds of thousands of Azerbaijanis have already migrated from the surrounding areas due to draught and salt storms which destroyed the agriculture in the region.