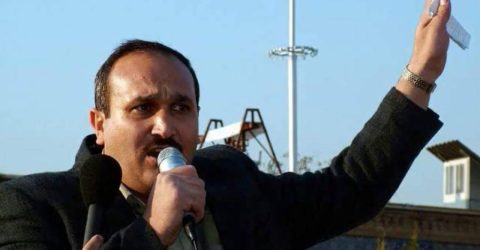 One of the most prominent South Azerbaijani political leaders, in an open letter to the judiciary of the occupaying regime of Tehran has demanded  an immediate release of all political prisoners. 
Mr. Abbas Lisani who is serving a 15-year- sentence in Ardebil Prison reacted to the harsh statements made by the regime's Prosecutor General of Ardabil Abdullah Tabatabaei.  
During his visit to the section 7 of Ardebil Prison where the political prisoners are held, Tabatabaei uttered that;  "Even breathing is haraam for prisoners attested on grounds of national security!" 

In his open response Mr. lisani stated that it appears that the regime wilfully uses the Covid 19 pandemic to get rid of its opponents.

 Lisani in an open letter released yesterday, indicated that the prisoners are susceptible and most volnurable due to the crowdedness as well as limited medical supplies and facilities. 
He has demanded that the regime must unconditionally release all political prisoners.
"The regime of Tehran would be held accountable should anything happen to the political prisoners as Covid 19 is rapidly spreading amoung the prisonors", Mr. Lisani concluded. 
Many South Azerbaijani political leaders including Abbas Lisani, Dr. Latif Hasani, Dr. Babak Farshi, Kazem Safabaksh and others are being held in prisons despite the rapid spread of Covid 19 in prisons which had caused the regime of Tehran to release 100 thausanad prisonors convicted of serious crimes.