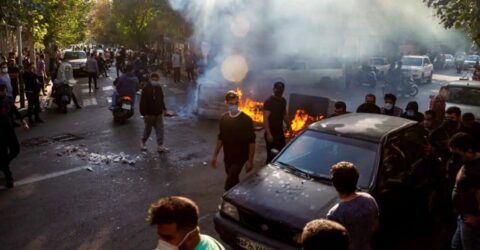 Starting from the morning of November 2, a mass rally related to the 40th ceremony of the young Azerbaijani poetess Hadis Najafi began to be held in the city of Karaj.

The violence of the government forces, who wanted to prevent people from participating in the 40 ceremony, resulted in a clashes.
Crowded demonstrations with the participation of tens of thousands of people were held on the streets of Karaj city, around the "Sakina" cemetery and on the Karaj-Tehran highway.
Enraged by the violence of the government forces, the protesters in several places shot the officers with weapons and set fire to their cars.
It was noted that several people died and many people were injured during the clash.
It was said that two of the government forces were killed at the scene and dozens of armed officers were injured, so the regime used helicopters to transport its wounded.
At the same time, it appears from videos and forums that government officials are dropping unknown substances on protesters from low-flying helicopters.
The protests, which started in the morning, continued into the night, and the protestors chanted the slogans "death to Khamenei", "death to the dictator" and "we will fight, we will die, we will take back Iran".
On November 2, in addition to Karaj, protests continued in other cities of the country and dozens of demonstrators were detained.