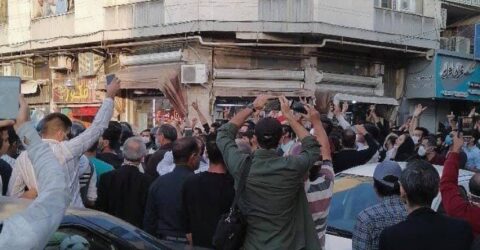 Simultaneously with the beginning of protests in support of the people of Khuzestan- Alahwaz many activists in Tabriz, Urmia, Ardebil, Zenjan have been detained by security forces. In the city of Urmia, West Azerbaijan, Ashkan Saadat Mehr and Akbar Qolizadeh, Azerbaijani national civil activists were arrested by security forces on Atai Street in Urmia and transferred to the Intelligence Office of Dukkuz Pilla.
Videos and images sent from different cities of South Azerbaijan, especially Tabriz, Urmia, Zanjan and Ardabil showed a strong security atmosphere and protests in most of the central streets of the cities. The number of detainees is likely to increase.
A large number of Azerbaijani activists have been detained in recent days, some of whom have been named so far, including Davood Rahimi, Ulduz Ghasemi, Shahin Barzegar, Amir Sattari, Vahid Abhari, Mojtaba Abdoli, Mohammad Mahmoudi, Karim Asgarzada, Rahim Davoodi, and dozens of Azerbaijani activists. Ettelaat detained or summoned many activists whose identities have not yet been determined.