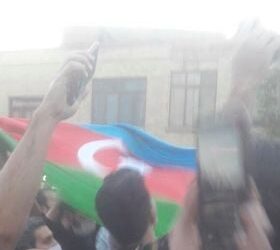 A South Azerbaijani activist, Mr. Siyamek Kushi who was arrested during the "Support to Karabakh" rally in Tabriz, S. Azerbaijan ( Under Iran's Occupation) on 18 October released a statement stating as follows:
"Most of the detainees were young people and minors, and there were more than 30 of them. When we were detained in the yard at night, we saw more than 10 arrested women, who were blindfolded and taken to another building. During the two days we were there, not a single glass of water was given, not even soap to wash our hands. Everyone who wanted water or food was taken out of the cell and severely tortured. "
During the second wave of Karabakh rallies in South Azerbaijan more than a hundred peaceful protesors arrested in the cities of Ardebil, Tabriz, Urmiya, Zengan.
The protestors demand the regime of Tehran to halt military support to Armenia. The occupying regime of Iran has been acting as the main transit state for the Russian military support to Armenia which has invaded 20 percent of Azerbaijan Republic for the last 30 years. Despite 4 U.N resolutions demanding unconditional and immidiate withdrawal of Armenian forces from Azərbaijan, Armenia has refused to comply.
The Azerbaijan Army has comanced an anti-terror military campaign on September 27 2020 to liberate it's territories from Russia-backed-Armenian occupation and reportedly, it has concidereably succeeded.
Despite all its " islamic" pretences Iran has sided with Armenia and its agressive policies against Muslim majority Azərbaijan.