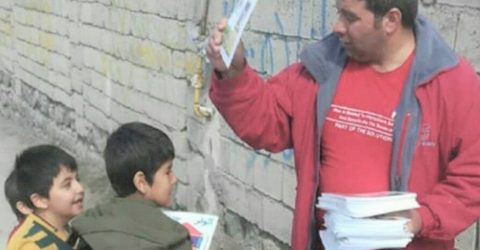 Aydin Zakiri, a South Azerbaijani activist, has been detained in the Azerbaijani city of Meshginshahr (Khiyav), S. Azerbaijan on August 1, 2019. No charges have been laid and his whereabouts is unknown. It is feared that the activist may have been subjected to torture.
According to local sources the arresting agents faced resistance from the activists and their relatives to detention without a warrant resulting in confrontation. Officials used excessive force and tear gas to disburse the crowd.
Security forces had contacted the activist last Wednesday to call him to Ettelaat demanding him to refrain from attending the Savalan Mountain ceremony. He refused to turn to the summoned office because of the unlawful demands of active security forces of accupying regime of Iran.
Aydin Zakiri was previously detained by security forces on February 21, 2015, on International Mother Language Day.
Cultural activists and youth have been peacefully gathering at the foot of the Savalan Mountain for the past few years. Savalan is considered as symbol of resistance by South Azerbaijani Turks.