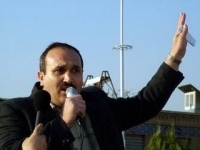 The Supreme Court of occupying regime of iran upheld the 15-year prison sentence of Abbas Lisani
The Supreme Court upheld the harsh sentence of Abbas Lisani, a prominent South Azerbaijani political prisoner who was sentenced to 15 years in prison by the Ardabil Provincial Court of Appeals.
This supreme Court's decision was received by Mr. MohammadrezaFaghihi, the lawyer of Mr. Abbas lisani on Saturday, July 4, 2020.
The lower court had originally sentenced Lisani to 8 years imprisonment. He appealed the decision to the Court of Appeals of Ardabil Province which was presided over by Judge Atsbati who increased Lisani's sentence to 15 years in prison without a proper hearing. Judge Atabati was the prosecutor of Mr. lisani's original matters who later became the head of Appeal Court of Ardebil. Basically, Atabati was both the presecutor and the judge of Lisani's charges.
Charges against Abbas Lisani in the indictment originally drafted by prosecutor Atabati included following: "Formation, administration and membership in the South Azərbaijan Liberation Front ", "Attempt against national security through incitement and encouragement of ethnic uprisings" in West Azarbaijan Province, through speeches and interviews with the dissident media, and "propaganda against the regime through the publication of insulting material through interviews with the assemblies, the media opposed to the regime with the aim of opposing the Islamic Republic as a whole continuously " .
Abbas Lisani was arrested in December, 2019, following a warrant issued by the Branch 2 of the Revolutionary Court of Tabriz.
He has been in Ardebil prison since his illegal arrest, and even his lawyer has been arrested and prosecuted for representing him in the case.
Lesani is one of the few political prisoners who, despite the prevalence of coronavirus and the spread of this dangerous disease into prisons has not been granted a temporary release.
The security forces also deprived the Lesani family of their livelihood and sealed his son's gold and jewelry repair shop which was the family's only source of income.
Abbas Lisani has been a pioneer of the Azerbaijani patriotic movement and has been repeatedly imprisoned, exiled, tortured on trumped-up charges.
About 30 milion Azərbaijani Turks have been deprived of their basic human rights, their culture and language are banned since the military occupation of South Azərbaijan in 1946 by Iranian armed forces.